Mission and Goals
Mission Statement
The mission of the University of Illinois (UIC) College of Pharmacy Office of Continuing Education and Meeting Services (OCEMS) is to provide the highest quality evidence-based Continuing Pharmacy Education (CPE) activities to pharmacists and pharmacy technicians. These activities are designed to advance their knowledge, competency, and skill set in order to provide optimal patient care.
Goals
In support of this mission, we will:
Provide our faculty opportunities to develop CPE activities including programs on best practices in the advancement of pharmacy, patient-centered care, and other relevant topics.
Develop live educational conferences in specific clinical specialties that incorporate case-based learning and networking opportunities.
Educate healthcare professionals on potential interventions for the management and treatment of opioid use disorder.
Develop online activities for pharmacists and pharmacy technicians to access during convenient hours in order to advance their continuing professional development and meet educational requirements for re-licensure.
Provide an educational platform for interprofessional collaboration with our medical, nursing, and pharmacists colleagues in the College of Pharmacy, College of Medicine, College of Nursing, and Midwest AIDS Training Education Center (MATEC).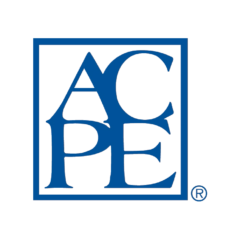 The University of Illinois at Chicago College of Pharmacy is accredited by the Accreditation Council for Pharmacy Education (ACPE) as a provider of continuing pharmacy education.
The Accreditation Council for Pharmacy Education (ACPE) is the national agency for the accreditation of professional degree programs in pharmacy and providers of continuing pharmacy education. ACPE was established in 1932 for the accreditation of pre-service education, and in 1975 its scope of activity was broadened to include accreditation of providers of continuing pharmacy education. ACPE ensures excellence in education for the profession of pharmacy through its core values of collaborative leadership, commitment, continuous quality improvement, innovation, integrity and service.
ACPE is an autonomous and independent agency whose Board of Directors is derived through the American Association of Colleges of Pharmacy (AACP), the American Pharmacists Association (APhA), the National Association of Boards of Pharmacy (NABP), and the American Council on Education (ACE).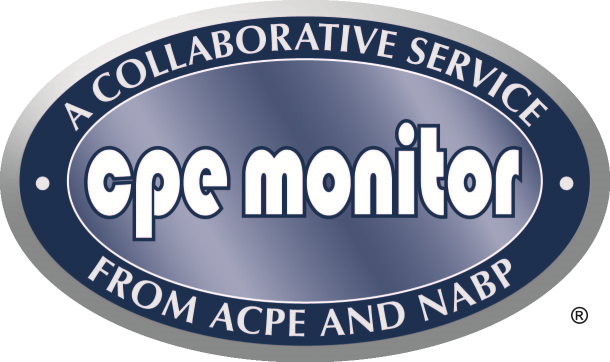 CPE Monitor® is a national, collaborative effort by ACPE and the National Association of Boards of Pharmacy (NABP) to provide an electronic system for pharmacists and pharmacy technicians to track their completed continuing pharmacy education (CPE) credits. It offers state boards of pharmacy the opportunity to electronically authenticate the CPE units completed by their licensees, rather than requiring pharmacists and technicians to submit their proof of completion statements upon request or for random audits.
All CE credits must be submitted to CPE Monitor within 60 days of completing a CE activity. CE credits will not be accepted by CPE Monitor after this deadline. In order to meet the CPE Monitor deadline, OCEMS submission deadline is 30 days from the activity date. Pharmacists and pharmacy technicians are required to provide their e-Profile ID and date of birth (MMDD) at the time of each activity. For more information and to set up your e-Profile visit: CPE Monitor.